Westerns hold an unmistakable charm with sunset duels and horseback shootouts. The resounding thud of cowboy boots against swinging saloon doors ignites excitement among moviegoers. This anticipation comes from the nostalgic allure and captivating cinematography that portrays each gunslinger's journey.
Western films even make audiences empathize with villains, revealing their struggles against barren landscapes. Despite the excitement, it's puzzling why Westerns are rarer on today's silver screen. But don't worry, Prime Video offers a remarkable selection, from classic icons to modern adaptations with high budgets.
Our expert panel has curated this collection for cinematic excellence. Discover "The Best Western Movies on Prime Video Right Now" in this Bigflix article.
Dances with Wolves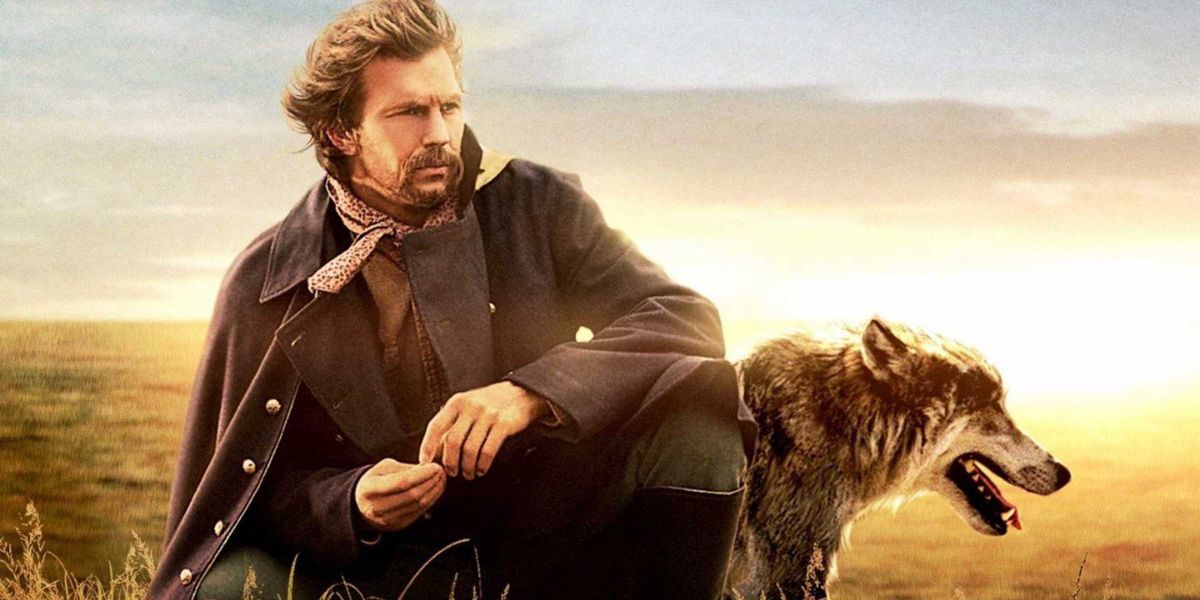 Directed by: Kevin Costner.
The cast includes Kevin Costner, Mary McDonnell, Graham Greene, Rodney A. Grant, and Floyd Red Crow Westerman.
The story follows Lt. John Dunbar (Kevin Costner) at a remote outpost, where he forms a deep bond with a wolf and the native people. His connection with a white woman raised by the community (Mary McDonnell) challenges his values and prompts a reevaluation of his life. The film's numerous Oscars highlight its excellence, solidifying its place in global households.
Once Upon a Time in the West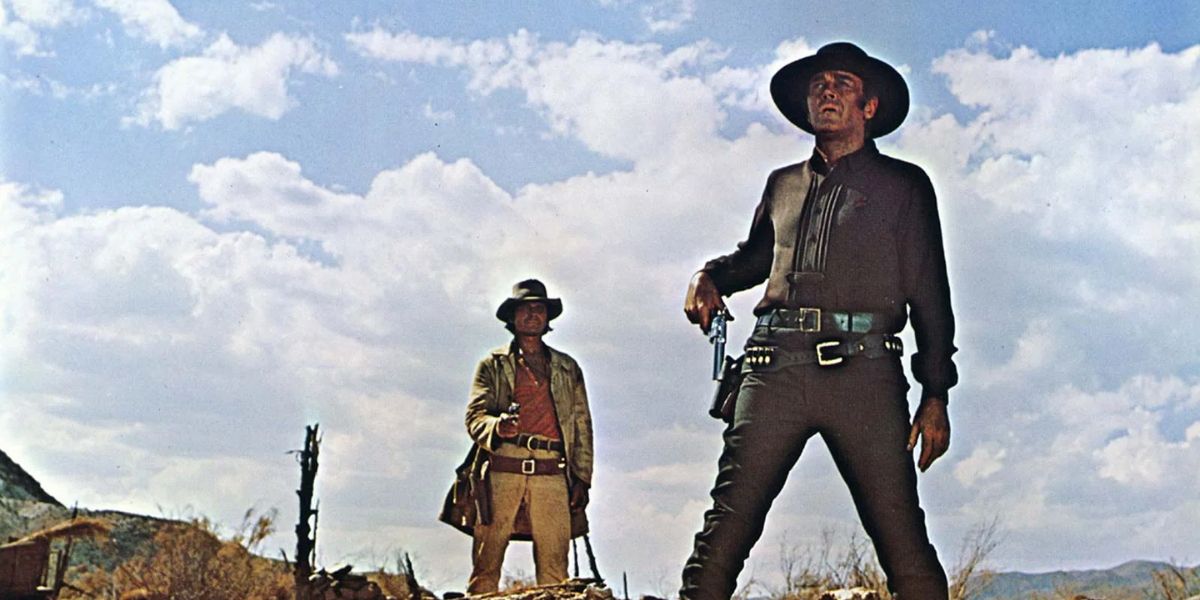 Directed by Sergio Leone
Cast includes: Henry Fonda, Charles Bronson, Claudia Cardinale, Jason Robards, and Gabriele Ferzetti. In a departure from his typical roles, Henry Fonda delivers a remarkable performance as the antagonist, adding depth to his composed charisma.
The film revolves around Fonda's character, pursued for alleged wrongdoings against Jill McBain (Claudia Cardinale) and Manuel Cheyenne Gutiérrez (Jason Robards). Sergio Leone's direction masterfully transforms Fonda into the antagonist, securing the film's place in cinematic history.
El Dorado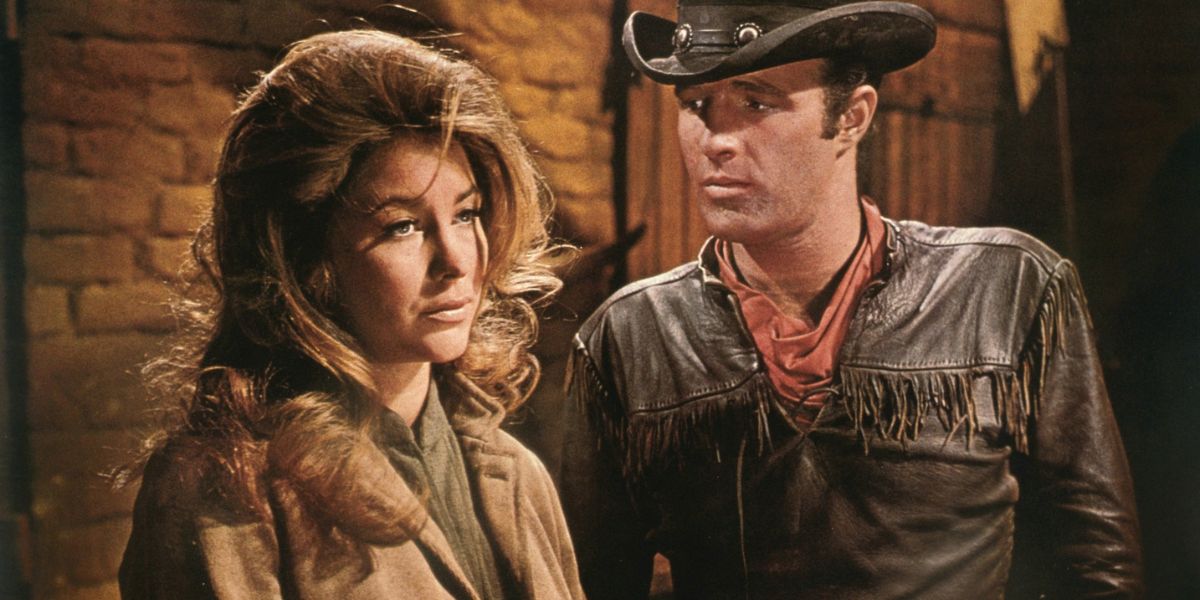 Directed by Howard Hawks
Cast includes John Wayne, Robert Mitchum, James Caan, Charlene Holt, and Paul Fix. John Wayne takes the lead as Cole Thornton, a gun-for-hire, in this action-packed Western.
The film delves into the timeless struggle between virtuous heroes and malevolent adversaries, exploring themes of honor and camaraderie among ranchers striving for a better life. 
No Country For Old Men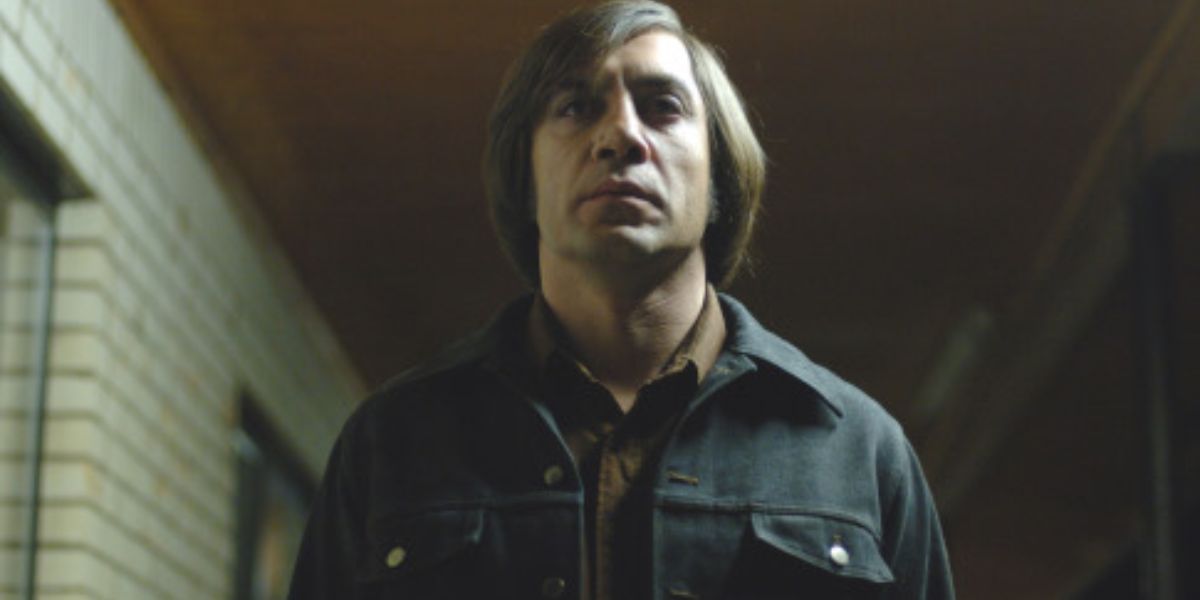 Directed by: Joel and Ethan Coen
The cast includes Tommy Lee Jones, Javier Bardem, Josh Brolin, Woody Harrelson, and Kelly Macdonald. The film introduces an original form of villainy embodied by Javier Bardem, presenting a unique perspective on the Western genre.
The story follows Llewelyn Moss (Josh Brolin) as he evades a relentless psychopath, portrayed by Bardem, in a gripping chase. Sheriff Ed Tom Bell (Tommy Lee Jones) shadows the events, creating a true-crime narrative reminiscent of an unstoppable real-life saga.
The Sons of Katie Elder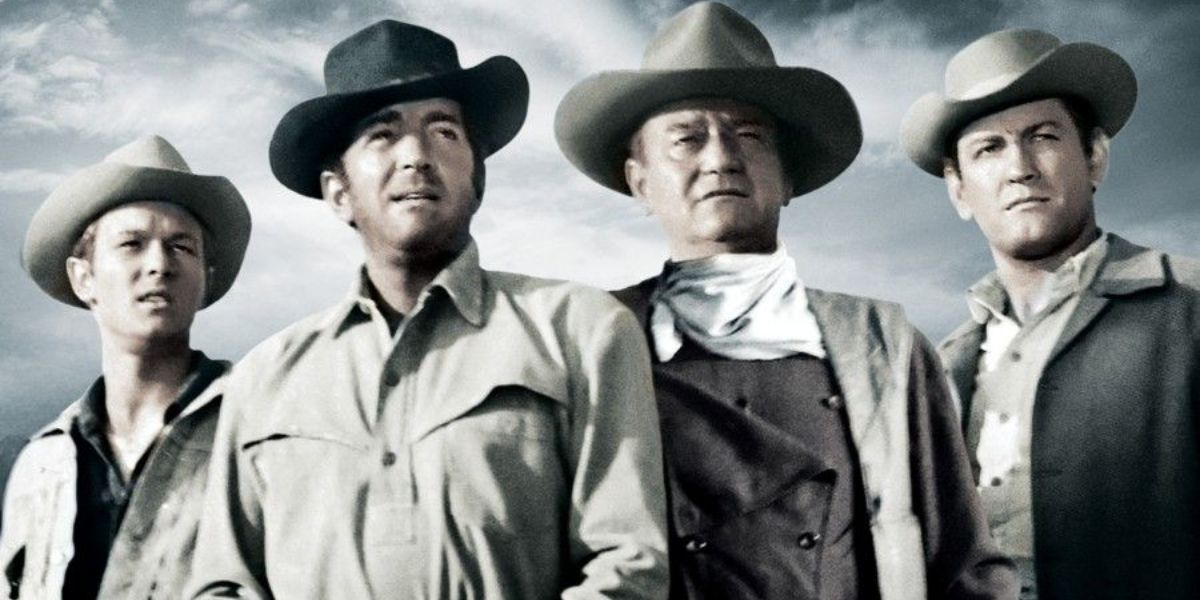 Directed by Henry Hathaway
The Cast includes John Wayne, Dean Martin, Martha Hyer, Michael Anderson Jr., and Earl Holliman. This classic Old West film follows four brothers who come together for their mother's funeral, only to find their father's land wrongly taken.
The story unfolds as they set out to clear his name and regain the family ranch, with John Wayne and Dean Martin portraying the brothers. This movie is a valuable addition to the collection of classic Western films.
True Grit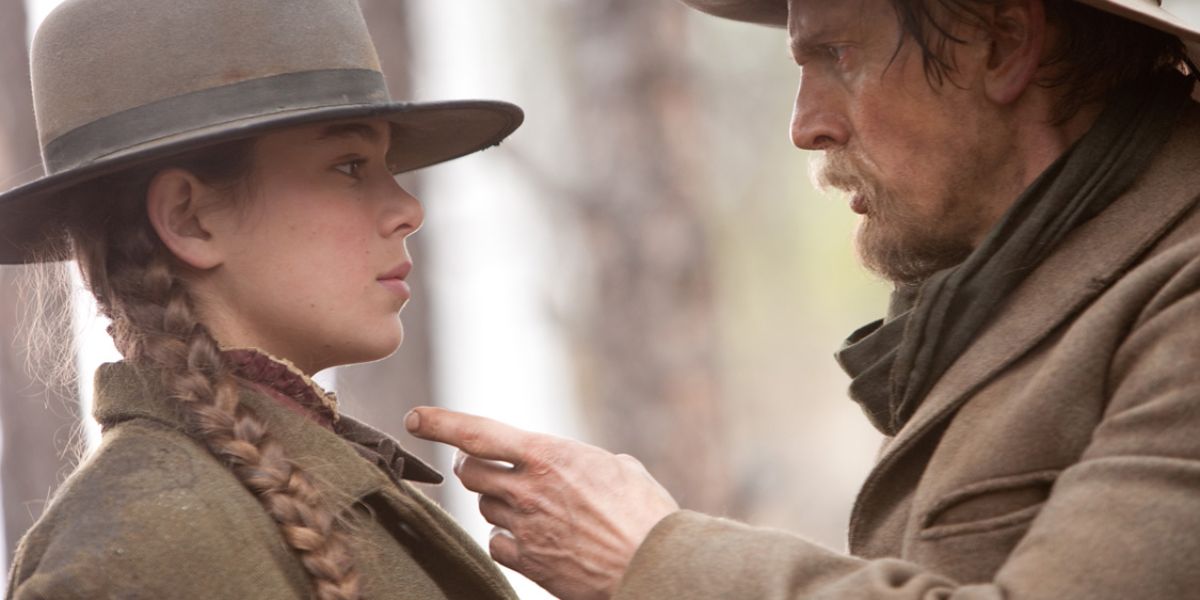 Directed by Henry Hathaway
The cast includes John Wayne, Kim Darby, Glen Campbell, Jeremy Slate, and Robert Duvall. This classic film, distinct from the modern version, stars John Wayne as Rooster Cogburn, a one-eyed, rugged, and alcoholic lawman who assists Kim Darby's character, Mattie Ross, in seeking vengeance for her father's murder.
Despite its seemingly straightforward plot of revenge and justice, the film's impact has endured, leaving a lasting impression on audiences. Alongside Wayne's Oscar-winning performance, the movie benefits from legendary supporting actors Robert Duvall and Dennis Hopper, contributing to its lasting success.
Tombstone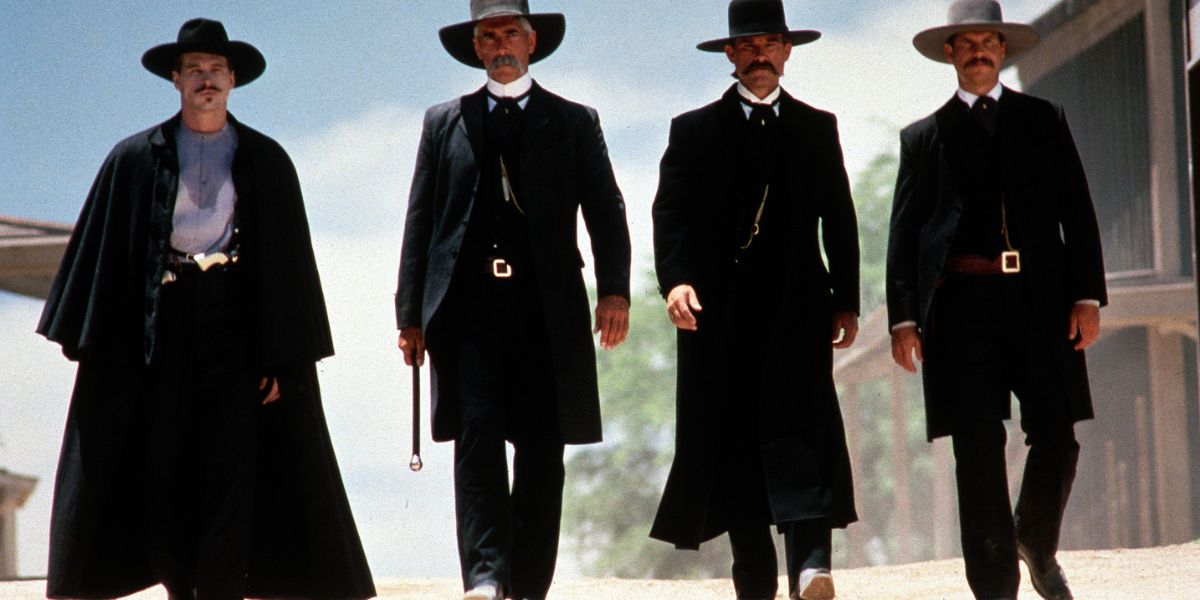 Directed by George P. Cosmatos
Cast includes Kurt Russell, Val Kilmer, Sam Elliott, Bill Paxton, and Powers Boothe. Against the backdrop of a sun-scorched land, the film weaves a tale of grit and honour. As shadows lengthen over the town, Wyatt Earp (Kurt Russell) and Doc Holliday (Val Kilmer) forge an unbreakable bond to stand against ruthless outlaws. 
Gunfight at the O. K. Corral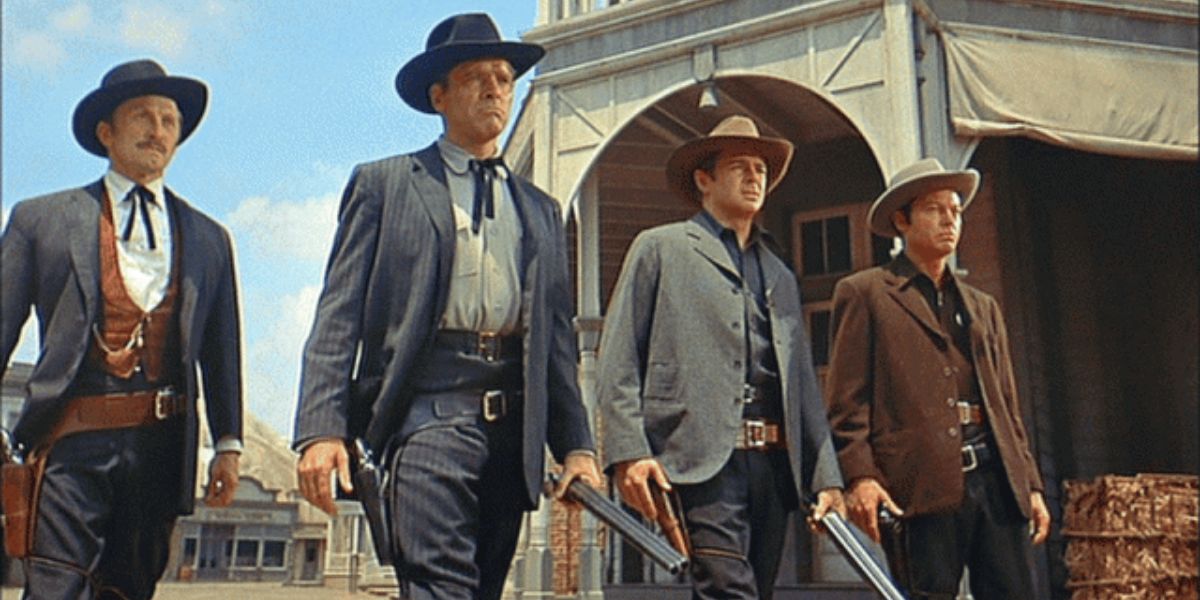 Directed by John Sturges
Cast includes Burt Lancaster, Kirk Douglas, Rhonda Fleming, Jo Van Fleet, and John Ireland.
This film is based on the true-life gunfight that occurred in 1881 in Tucson, AZ. The Earp brothers (Burt Lancaster, John Hudson) and Doc Holliday (Kirk Douglas) confronted the ruthless Clanton gang in a showdown that became a legend. 
The Assassination of Jesse James by the Coward Robert Ford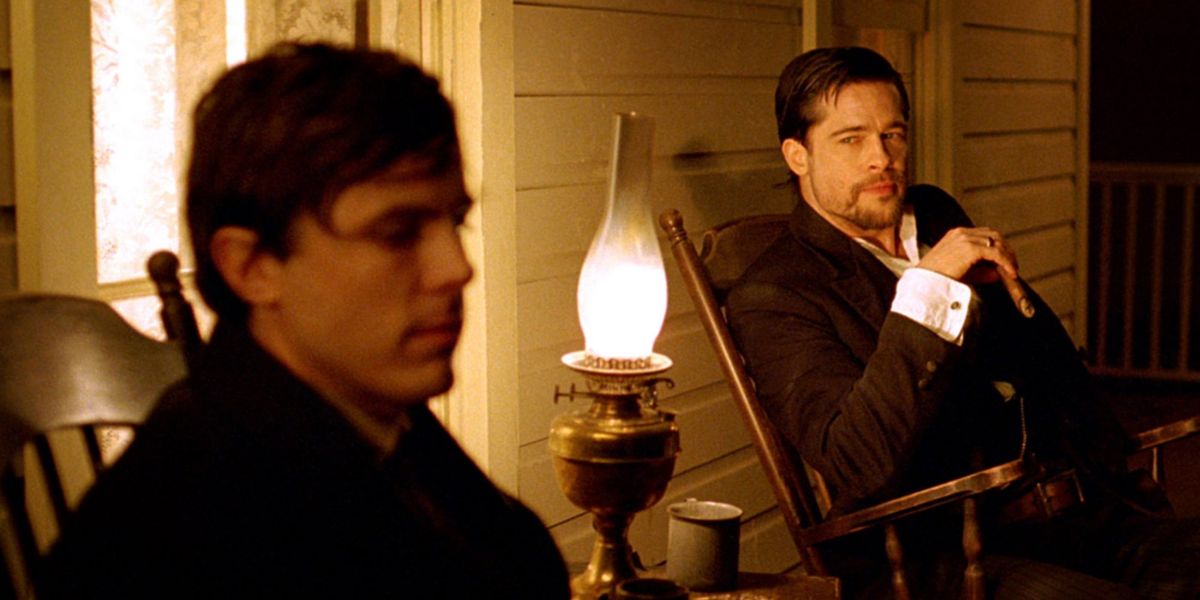 Directed by Andrew Dominik
Stars Brad Pitt, Casey Affleck, Sam Shepard, Mary-Louise Parker, and Paul Schneider. The film chronicles the tale of the notorious 1880s outlaws, with Brad Pitt portraying Jesse James and Casey Affleck as Robert Ford. The story delves into their complex relationship, marked by uneasy bonds, disintegrating loyalty, and festering jealousy.
Stagecoach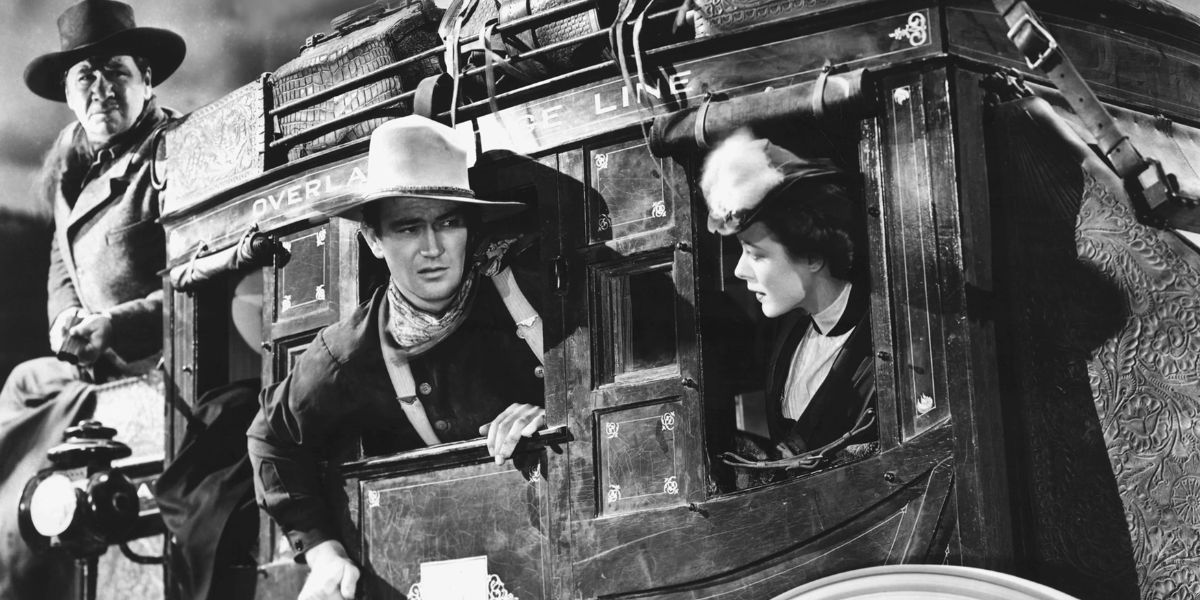 Directed by John Ford
Features Claire Trevor, John Wayne, Andy Devine, John Carradine, and Thomas Mitchell. The film follows a group of diverse passengers, including John Wayne's iconic portrayal of the Ringo Kid, as they journey through treacherous Apache territory. Amid the looming danger, societal biases crumble, giving rise to unexpected bonds.
The Man Who Shot Liberty Valance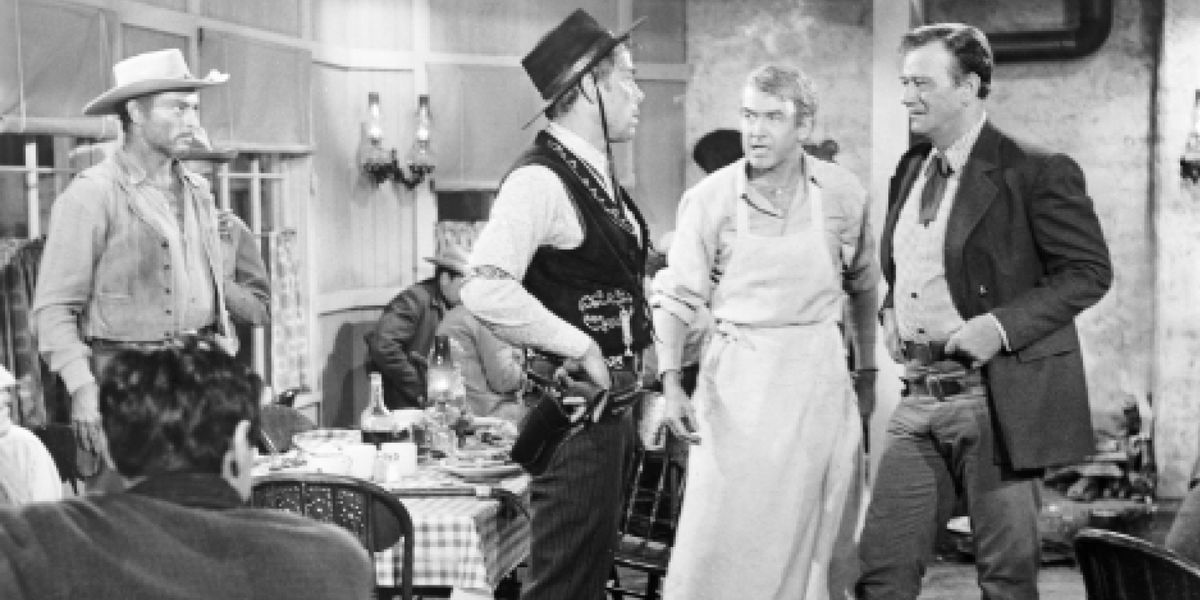 Directed by John Ford
Features James Stewart, John Wayne, Vera Miles, Lee Marvin, and Edmond O'Brien. The film intricately weaves a story of lawlessness and courage, with John Wayne and James Stewart embodying contrasting approaches to justice. As truth and legend intertwine, the film captures the evolution of the West, showcasing director Ford's mastery of the Western narrative.
Panhandle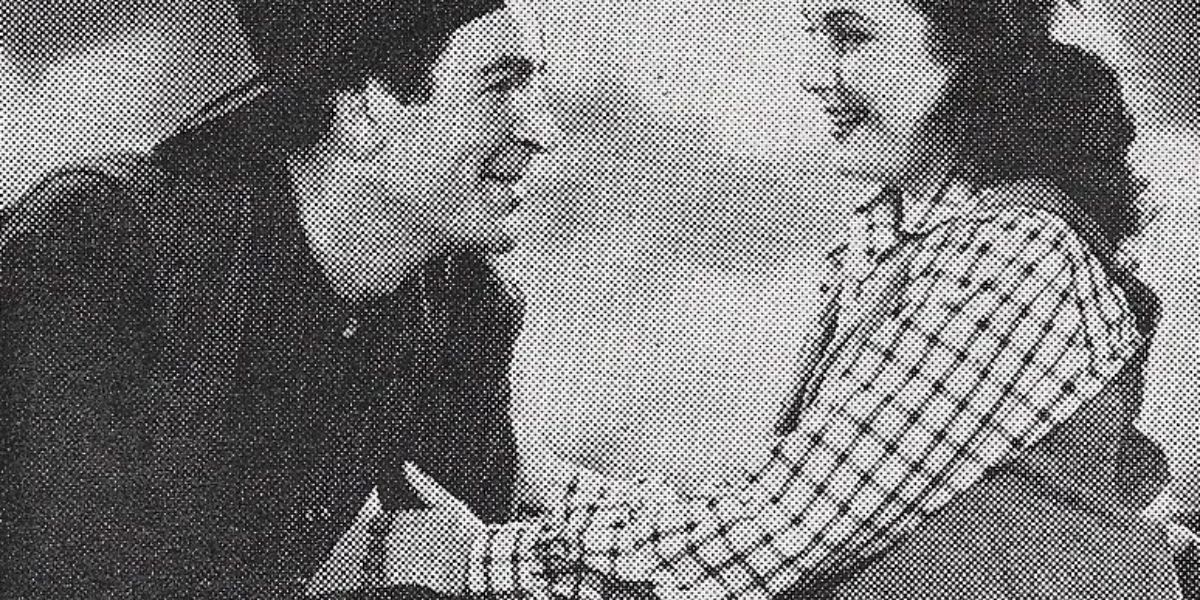 Directed by Lesley Selander
Rod Cameron stars as a war veteran turned sheriff in a small town. The movie depicts his struggles to uphold law and order while contending with a local gang's threats. Noted for its dynamic action scenes and the protagonist's path to redemption, Panhandle delivers a compelling story.
The Big Country
Directed by William Wyler
Gregory Peck plays a retired sea captain drawn to the American West to marry his fiancée, portrayed by Carroll Baker. Caught in a feud between two influential families over water rights, he navigates personal integrity and cultural clashes. The film stands out for its remarkable cinematography and exploration of frontier themes.
News of the World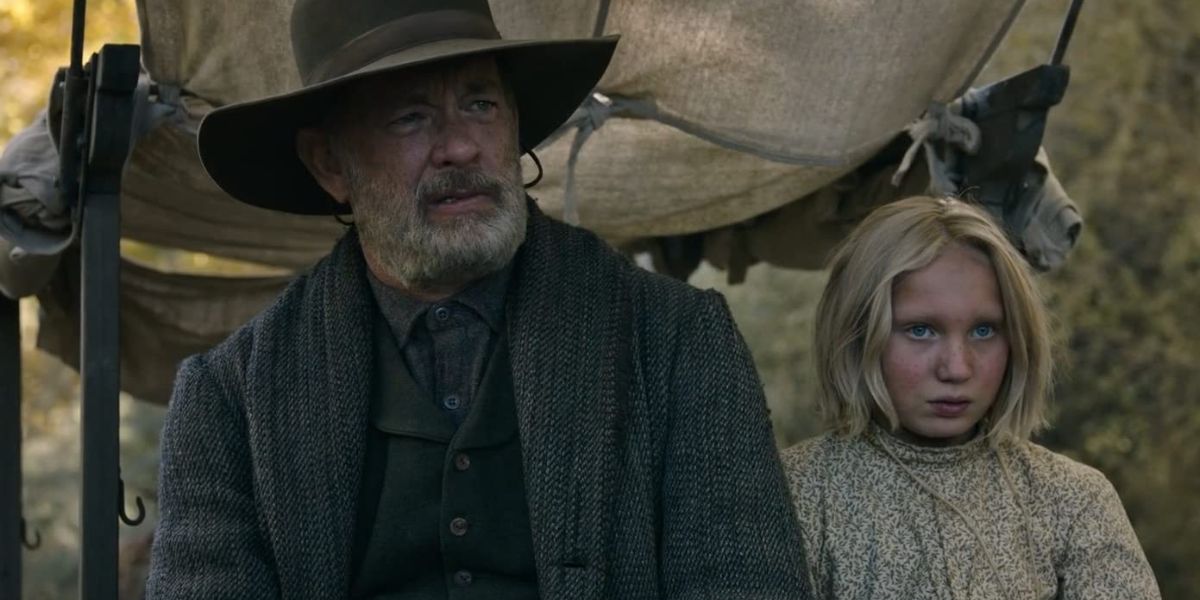 Directed by Paul Greengrass and starring Tom Hanks.
Set after the American Civil War, Hanks portrays Captain Jefferson Kyle Kidd, who travels from town to town sharing stories. His journey takes a transformative turn when he encounters an orphan girl raised by Native Americans, weaving themes of unity and cross-cultural experiences.
Stay tuned with us for more exciting articles and updates on our website. Don't miss out on the latest buzz and captivating content—we've got you covered!