Maharaja also prominently features Anurag Kashyap, Mamta Mohandas, and Abhirami in addition to Vijay Sethupathi.
For everyone who enjoys Vijay Sethupathi, September is wonderful. Questioning: Why? Vijay Sethupathi unveiled the first look poster of his 50th project, Maharaja, which was written and directed by Nithilan Saminathan, a few days after the release of his hit movie Jawan, which starred Shah Rukh Khan. In both Tamil and English, the actor has released two posters. Vijay Sethupathi is pictured here seated on a chair with a cut ear. He has a sickle in his hand that is covered in blood. The actor wears a shirt and khaki-colored pants and has a serious expression on his face. Blood is all over Vijay Sethupathi's hands and feet. He is being seen by a few police officers via a collapsed wall. It is obvious from the poster that the movie will have a dramatic and grim plot. Sharing of the poster used the hashtag "Maharaja first look."
where to watch the hunt for Veerappan? A stunning docuseries ready to leave you in awe!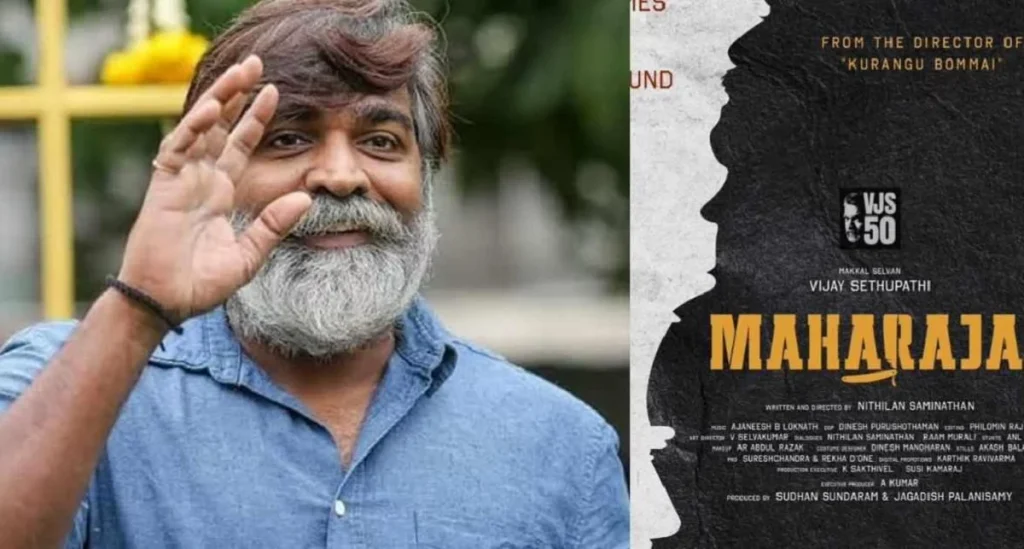 Pushpa 2: The Rule Release Date Revealed: Allu Arjun's Exciting Movie Hits Theaters on August 15, 2024
Maharaja also stars Anurag Kashyap, Mamta Mohandas, and Abhirami in major roles in addition to Vijay Sethupathi. The Haddi actor shared the posters and wished Vijay Sethupathi a happy 50th birthday. Anurag Kashyap claimed that being a part of Maharaja makes him feel "honoured and delighted." On Instagram, he posted the same poster and wrote, "Congratulations Vijay Sethupathi on your 50th film. I feel so honoured and happy to be a part of it. Congratulations to Nithilan Saminathan, Mamta Mohandas, Abhirami, and the entire team at Passion Studios! Toward the future… We wish you all the best.
Vijay Sethupathi is currently enjoying the success of his most recent pan-Indian film, Jawan. Vijay Sethupathi plays the villain in the Shah Rukh Khan movie. As the "fourth largest weapon dealer in the world," the actor plays Kaalie Gaikwad. The actor has equally impressed his fans and critics with his unique work.
Jawan features a star cast that includes Vijay Sethupathi, Shah Rukh Khan, Deepika Padukone, Sanya Malhotra, Sunil Grover, and Sanjay Dutt in addition to Vijay Sethupathi. The film directed by Atlee debuted on September 7.