The Heartstopper graphic novel series by Alice Oseman has captured the hearts of fans from all walks of life. Now, Nick and Charlie's wholesome and unexpected love story continues on Netflix with a delightful coming-of-age series. The show's first season received a warm reception, winning over a whole new audience of Heartstopper fans, or "stans," prompting Netflix to greenlight not just one, but two more seasons.
If you're eagerly awaiting Heartstopper season 2, we've got you covered with all the exciting details. So, join us in finding out about the cast, plot, and release date of the upcoming season of this beloved rom-com in this article.
Heartstopper Season 2 Netflix Release Date
Netflix has confirmed the much-awaited release date of Heartstopper season 2, and it's just around the corner! On August 3, get ready to dive back into the heartwarming world of Nick and Charlie's love story. Star Kit Connor shared his excitement in a special clip for the teaser video, revealing that creator Alice Oseman has crafted some amazing scripts for the upcoming season.
He also hinted at a cool and fresh vibe, promising a different experience from season one. But the good news doesn't stop there. Last year, fans were overjoyed to learn that not only one but two new seasons are on the way. 
Creator Alice Oseman herself announced in May 2022, treating fans with a video on Instagram where she sketched Nick and Charlie in comic form before unveiling the finished product, confirming the two more seasons. Get ready for more heartwarming moments and new adventures as Heartstopper returns with its second season on Netflix!
Who Is in the Cast of Heartstopper Season 2?
Get ready to have your heart stolen once again as the much-awaited 'Heartstopper' Season 2 unveils its enchanting cast! This beloved series returns with a stellar lineup of talented actors and actresses, bringing back the beloved characters we've grown to adore. Here is the cast name of Heartstopper Season 2:
The Plot Of Heartstopper Season 2: What will happen?
Heartstopper Season 2 continues the heartwarming tale of Nick and Charlie's romance. Picking up from Volumes 1 and 2, this season adapts material from Volume 3, as they navigate the "new normal" of their relationship. Join them on an exciting trip to Paris with their classmates. Netflix's official synopsis promises more love and adventures for our beloved characters.
In Heartstopper Season 2, the focus remains on Nick and Charlie as they embrace their new romance, discovering the ups and downs that come with being a couple. Meanwhile, Tara and Darcy find themselves confronting unexpected challenges in their relationship, and Tao and Elle question whether they could evolve beyond being just friends.
Amidst all of this, the group faces the pressures of upcoming exams, an exciting school trip to Paris, and the daunting task of planning a prom. As they journey through the next stages of life, love, and friendship, the gang must juggle a whirlwind of emotions and experiences. Get ready for a heartwarming and eventful season filled with love, growth, and self-discovery!
In the first scene of Heartstopper Season 2, we witness a heartwarming exchange of sweet good-morning texts between Charlie and Nick, who are both thrilled by their newfound relationship as they greet each other at school. During Netflix's annual TUDUM event, the full list of episode titles for Season 2 was revealed, offering a glimpse into the upcoming episodes:
Episode 1: "Out"
Episode 2: "Family"
Episode 3: "Promise"
Episode 4: "Challenge"
Episode 5: "Heat"
Episode 6: "Truth/Dare"
Episode 7: "Sorry"
Episode 8: "Perfect"
With these delightful glimpses, fans can look forward to a season filled with heartwarming moments, challenges, and exciting adventures for the beloved characters of Heartstopper.
Where to Watch Heartstopper Season 2?
As Netflix drops the new teaser trailer for Heartstopper season 2, excitement is building! Fans are now counting down the days as the release date approaches. The highly anticipated second season is set to premiere on August 3, 2023, just under a few days away.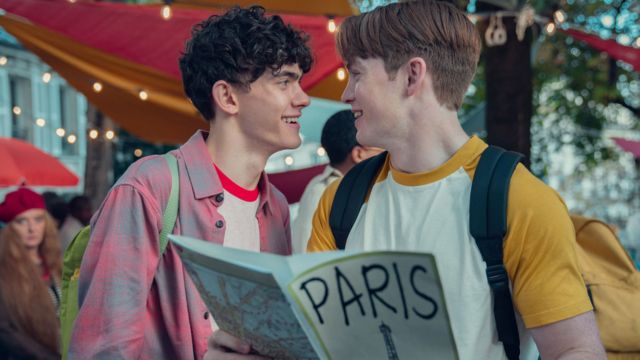 Get ready to dive back into the heartwarming world of Nick and Charlie's romance as they embark on new adventures and navigate the ups and downs of their relationship. Mark your calendars for this date, as Heartstopper returns to spread joy and love once again!
Heartstopper Season 2 Trailer: Where Can I Watch?
Exciting news! The official trailer for Heartstopper season 2 dropped on July,25. Watch Charlie and Nick embrace their romance while Nick grapples with coming out.
Click here, to watch the trailer
Get ready for Elle and Tao's friendship to potentially blossom into something more, and witness Tara and Darcy working through their communication hurdles. Love, growth, and drama await when the new season premieres on August 3!
Conclusion
In summary, Heartstopper Season 2 is set to be a rollercoaster of emotions and heartwarming moments. The official trailer, released on July 25, gives fans a glimpse of the joy and challenges that lie ahead for our beloved characters.
With a perfect blend of love, friendship, and self-discovery, Heartstopper Season 2 promises to be an emotional and captivating journey. As the gang faces the next stages of life, love, and friendship, viewers can expect to witness personal growth, genuine connections, and moments that will tug at the heartstrings.
 The season's premiere on August 3 is highly anticipated, and fans are eagerly counting down the days to reunite with their favourite characters. Get ready to be swept away in the heartwarming and relatable world of Heartstopper Season 2, as it continues to steal the hearts of audiences everywhere.
Stay in the loop and never miss a beat! Stay tuned with us for more exciting articles and updates on our website. Don't miss out on the latest buzz and captivating content—we've got you covered!