Jujutsu Kaisen Season 2 Episode 6 is all set to release on 31st August, 2023. On August 31st, 2023, "It's Like That," the sixth episode of Jujutsu Kaisen season 2, will debut. The release dates and a streaming guide may be found here.
On August 31, 2023, Jujutsu Kaisen season 2 episode 6 will air. It will kick off the series' major arc, the Shibuya Incident arc. Suguru Geto will take the initiative in this arc.
Strong sorcerer Suguru Geto decided to kill all non-sorcerers because he thought they cast curses. The world's most powerful jujutsu sorcerer, Satoru Gojo, encountered young Megumi Fushiguro and decided to look after him and his sister.
Jujutsu Kaisen season 2 episode 6 release date
On August 31st, 2023, at 11:56 PM JST, the sixth episode of Jujutsu Kaisen season 2 will air in Japan. 2 hours and 4 minutes later, at the following times, the international release of the version with English subtitles will take place:
Pacific Daylight Time: 10 am, August 31st
Central Daylight Time: noon, August 31st
Eastern Daylight Time: 1 pm, August 31st
British Summer Time: 6 pm, August 31st
Central European Summer Time: 7 pm, August 31st
Indian Standard Time: 10:30 pm, August 31st
NBS/TBS in Japan will air Jujutsu Kaisen season 2 episode 6 for the first time. Then, it will be shown simultaneously in North America and Europe on Crunchyroll. The anime will be accessible in India and Southeast Asia via Netflix and the Ani-One Asia YouTube Channel's Ani-One Asia Ultra service.
Recap of Jujutsu Kaisen season 2 episode 5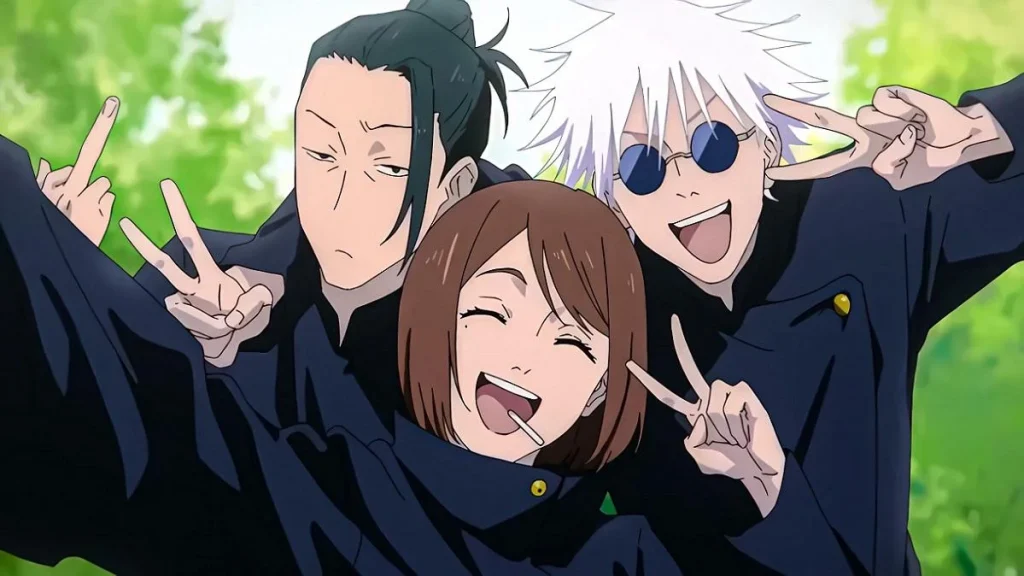 Suguru Geto's resentment of non-sorcerers grew in Jujutsu Kaisen season 2 episode 5. He saw the peasants treat Nanako and Mimiko Hasaba badly because they were sorcerers, and this made him resolve to kill everyone who wasn't a sorcerer. After meeting Megumi Fushiguro, Satoru Gojo decided to mentor him.
The most recent episode depicts the sad conclusion of Gojo's Past arc, in which the two most powerful Jujutsu practitioners turn against one another. The story's narrative begins on a positive note before turning increasingly gloomy over time.
Gojo and Geto respond in different ways to the tragedy of losing their pals. Suguru Geto, the ideal pupil, chooses the road of evil. Satoru Gojo, a troublemaker, switches to teaching Jujutsu and begins nurturing the new generation of sorcerers.
Read more:
What to expect from Jujutsu Kaisen season 2 episode 6?
The manga chapter 64, which occurs in between the Hidden Inventory arc and the Shibuya Incident arc, will be adapted for Jujutsu Kaisen season 2 episode 6. In the episode, a girl who is drawn to Yuji Itadori will approach him. Perhaps Megumi and Nobara can assist the girl in attracting Yuji's attention.
The next episode will continue where the last one left off. The first and second years will all be evaluated because Mei Mei and Aoi have suggested the first and second years for promotion to first-grade sorcerers. They will closely collaborate with other first-grade sorcerers on that, who will assess their suitability for promotion.
To Aoi's dismay, the person recommending the applicant is unable to assess them. He thereby forfeits the opportunity to collaborate with his "brother," Yuji. However, a character from Yuji's past returns to look for him. Yuji shared a middle school with the girl. Yuji spoke up for her when she was being teased for being overweight.
Even though she appears radically different now, Yuji quickly recognizes her when she arrives to find him years later. Megumi and Nobara are also present to watch if Yuji will start dating her, but nothing of the sort occurs. Just like Gojo suspected, Jujutsu Kaisen Season 2 Episode 6 would also expose a traitor from Kyoto's Jujutsu High School.