The Tower Season 2 is approaching with the decided date. The ITV drama The Tower enjoyed tremendous success when it debuted in 2021, and as it was based on several Kate London novels, it was only logical that the series would be extended.
We now know that a third season of the show has been ordered, in addition to The Tower 2: Death Message arriving on our screens soon.
DS Sarah Collins (Gemma Whelan) and PC Lizzie Adama (Tahirah Sharif), who are adjusting to life after the dramatic events of season 1, will once again be the subject of a compelling four-part series that fans can look forward to.
As they take on parallel new cases, they come face to face once more. Will they be able to complete their investigations despite their personality differences?
The Tower Season 2: Death Message release date
Over the August Bank Holiday weekend, The Tower 2: Death Message will be broadcast on ITV1 and ITVX, with the ITV1 premiere set for Monday, August 28, at 9 p.m.
The four-part series will then air on consecutive evenings, so be sure to check in if you're interested in learning what happens with these compelling instances.
The news that the show will return for not just one but two seasons is not unexpected given what Tahirah Sharif, who plays PC Lizzie Adama, recently said to RadioTimes.com and other media about the potential for the series to go further.
"[The book series] kind of follows Lizzie and Sarah, these two characters, through their personal lives and their careers, and it may even bring them together again in various situations," she remarked. Because two additional novels have already been published, I believe there is room for more.
In addition, DI Kieran Shaw's on-screen actor Emmett J. Scanlan recently admitted to Metro.co.uk that "a lot of the stuff that I learned about Kieran isn't really in the first season." I gained a lot of understanding of his character the reasons behind why he is who he is and why he makes the decisions that he does through Kate London's third novel, which I read.
The Tower Season 2: Death Message cast – Who is returning and who is new?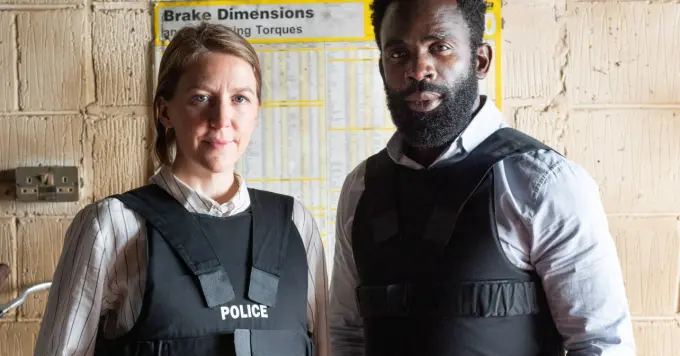 In The Tower Season 2: Death Message, Tamzin Outhwaite plays Cathy Teel. ITV Tahirah Sharif, Jimmy Akingbola, Emmett J. Scanlan, and Gemma Whelan are all scheduled to reprise their roles from the first season, along with a few new cast members.
Along with Stuart McQuarrie playing DCI Jim Fedden, Sarah's new boss, Tamzin Outhwaite, Niamh Cusack, and Ella Smith are all new cast members.
Here's a full list of the cast for The Tower II: Death Message:
Gemma Whelan – DS Sarah Collins
Tahirah Sharif – PC Lizzie Adama
Jimmy Akingbola – DC Steve Bradshaw
Emmett J Scanlan – DI Kieran Shaw
Ella Smith – DC Elaine Lucas
Tamzin Outhwaite – Cathy Teel
Niamh Cusack – Claire Mills
Charley Palmer Rothwell – Matthew Brannon
Michael Karim – PC Arif Johar
Stuart McQuarrie – DCI Jim Fedden
Faith Delaney – Skye Brannon
Brian McCardie – Ray Walker
Bobby Lockwood – DC Lee Coutts
Rosalie Craig – Katherine Herringham
Rebecca Calder – Abigail Levy
Tristan Sturrock – Adrian Stephenson
Camilla Beeput – Julie Woodson
Jack Shalloo – PC Colin Ryle
Laurie Delaney – Mary Shaw
Mark Monero – James Adama
Buckso Dhillon-Woolley – Nabila Adama
Kirsty Hoiles – Pathologist
What will The Tower Season 2: Death Message be about?
Even though the ITV series' second season is based on the book Death Message, the plots diverge, and instead of centring on Tania Mills's disappearance the morning after the Great Storm in 1987, the programme sets the disappearance on the day of Princess Diana's funeral, September 6, 1997.
Because she would have been the same age as the missing teen at the time, Sarah (Whelan) feels a strong personal connection to the missing girl. Sarah is given the impossible task of solving a cold case in her new position at Homicide Command, but she swiftly unearths fresh leads and overlooked cues.
After the events of season 1, Lizzie returns to Fallow Station. Her first call is to file a domestic violence complaint against Mark Brannon (Charley Palmer Rothwell), who is accused of assaulting Georgina Teel (Rosa Coduri), his girlfriend, and terrorizing their young daughter Skye. She is accompanied by Arif Johar (Michael Karim).
Why you should watch The Tower Season 2: Death Message?
According to the synopsis, Lizzie convinces Georgina to be honest about what Brannon did to her so that Lizzie and Arif may take him into custody. However, once the case is in court, Lizzie is forced to take a cross-examination, which puts the entire case in jeopardy.
Lizzie and Sarah come into contact once more as both of their investigations get going, but can they put their differences aside to solve their respective cases? The Tower Season 2's hostile relationship between the seasoned Sarah Collins and the inexperienced cop Lizzie Adama is at its core, as they are forced to work together for the first time and start to understand each other's distinctive strengths, according to the synopsis.
Know more:
Is there a trailer for The Tower Season 2: Death Message?
It exists! The drama that Lizzie and Sarah will encounter in this new season is teased in the teaser for two tragic and parallel cases.
Watch the trailer here.