Best horror movies on Disney+ Hotstar may get a vast selection of movies, TV series, short films, and other media on Hotstar. However, did you know that the OTT platform also offers a compelling selection of horror films? On Hotstar, watch some of the top horror films. We have compiled a list of Hotstar movies that you simply must watch. Go on reading!
List of Top 10 Best horror movies on Disney+ Hotstar
Bhool Bhulaiya – Hindi 
A newlywed NRI couple visits their ancestral home despite the worries of their family members who think the house has a paranormal presence. The husband decides to enlist the help of a friend who is a psychiatrist to unravel the riddle as strange things start happening and the wife appears to be possessed. One of the best-known and most well-known horror films in India is Bhool Bhulaiya. Watch this for the compelling storyline and outstanding performances by Vidya Balan, Akshay Kumar, etc. Among the top horror films on Hotstar, Bhool Bhulaiya gets off to a good start.
13 B: Fear has a new address – Hindi
Moving into a new flat on the 13th floor for Manohar and his family. He disregards unusual occurrences occurring in the flat since he is so thrilled about realizing his life's ambitions. His family, however, is quite suspicious of the weird occurrences, including a TV program that ends up acting as a conduit for a ghost to reach Manohar. All of this makes his family feel that the apartment is unlucky. Manohar finally solves the apartment's secret mystery with the aid of a cop acquaintance. R Madhavan gave a fantastic performance in this original horror movie.
Bhoothnath – Hindi
A young family with a school-age child moves into a new home that neighbors believe to be haunted. The 'Bhoot' makes every effort to frighten the family and their child away from the residence. The child and the "Bhoot" eventually become friends. When the 'B hoot's son decides to sell the house, their friendship is put to the test. Another timeless Bollywood horror film that will touch your heart is this one. This one is a must-watch as well if you're looking for the finest horror movies on Hotstar in Hindi. As would be expected, Amitabh Bachchan, the megastar, gives a stellar performance in this.
Stree – Hindi
Stree is a movie about a witch who kidnaps lonely men at night while leaving their garments behind. It is based on the urban legend "Nale Ba" from Karnataka. She typically targets men during festivals, and the residents of Chanderi village live in perpetual fear of her. The tailor Vicky meets a customer one fine day who asks him to sew a lehenga for her. She also requests him to purchase her certain enigmatic stuff like cognac, beef, lizard's tail, and cat fur. Vicky is perplexed and decides to solve her issue out of curiosity. The talents of Rajkummar Rao and Shraddha Kapoor, along with a piece of great music and an engaging story, helped this horror comedy succeed at the box office as well.
Totem – English
Robin relocates to her boyfriend's home, a widower with two young girls. As time goes on, conflict develops between the two daughters and their father's girlfriend. The oldest daughter makes the decision to take desperate measures to protect her family after feeling that a supernatural being has also moved into the home. Will her efforts be successful? View the film to find out the answer. You must watch this ghostly horror movie from America starring Kerris Dorsey, Ahna O'Reilly, and James Tupper!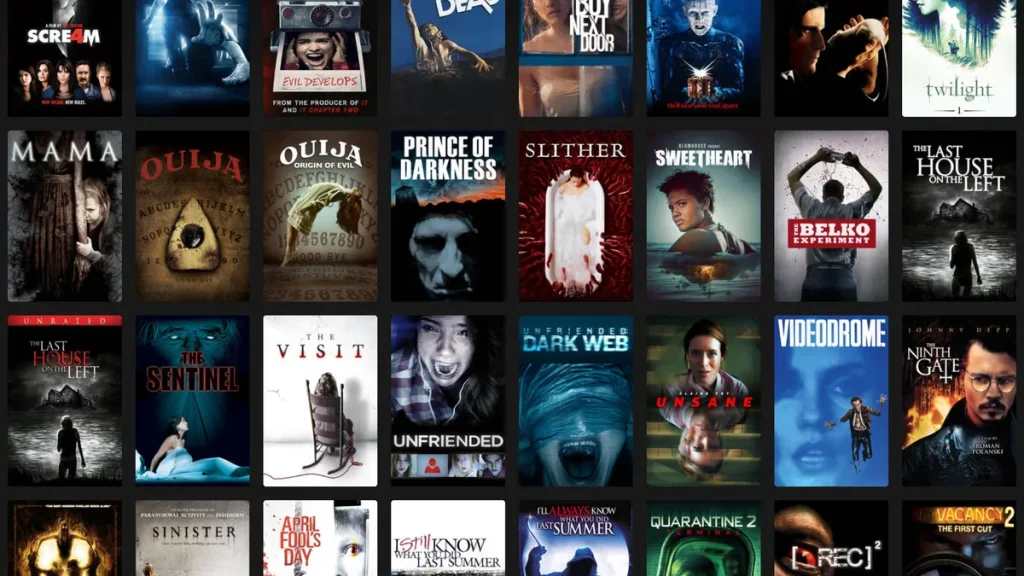 Laxmii – Hindi
Asif has never held any sort of supernatural belief. He is adamant that science and logic dominate all aspects of existence. When he goes to his in-laws' home, however, his belief is dispelled when he enters a haunted area. He soon becomes possessed by the ghost of a transgender person who is seeking retribution. When playing a transgender character, Akshay Kumar did the part justice.
The Empty Man – English
James Lasombra, a former police officer, is tasked with investigating the inexplicable disappearance of a little girl. But what he's about to do will completely alter his life. Investigating further, he learns that a perilous cult exists that releases a demon into our world. The Stephen Root, Marin Ireland, and James Badge Dale movie got out to a poor start but gradually captured the interest of several reviews.
The Night House – English
Rebecca, whose beloved husband unexpectedly passed away, is distraught and lonely in the lakeside home he lovingly created for her. She does her best to get through each day despite her misery until she starts having nightmares. Additionally, she starts to receive unsettling calls, which makes her feel uneasy and afraid. All of this takes place at night, but as the dawn rises, everything appears to be dazzling once more. This continues for a few days before Rebecca makes the decision to look through her husband's possessions. What will she discover? To learn more, see this movie.
Grimcutty – English
The protagonist of this tale is a suburban teen girl who discovers, along with her brother, that her parents have created a terrible internet fad. However, this meme is totally different from others that are humorous and make people chuckle. The responsibility to stop the spread of Grimcutty rests with the girl and her brother.
Learn more:
The Hills Have Eyes – English
A suburban family makes the decision to travel. Everything is well until they are travelling to California and their car breaks down in the midst of a desert. They experience additional bad luck when a group of cannibals assault them. The struggle for survival in the desert that follows. This horror film on Disney plus Hotstar is yet another cult classic that you shouldn't miss.
There are many more films available on Hotstar. Simply check that your broadband connection is appropriate. Everyone dislikes it when their movie buffers, after all, don't they?