Most shocking questions are asked by people, not journalists, no matter how good journalists are at being shocking. The other day, Pawan Kalyan was in London for the regular day of events for the UK Telugu Association. Someone in the crowd reportedly asked him if he would like to work with Ajith, who is Kollywood's most famous actor.
Like most movie stars, Power Star answered in a nice way. He said that no one had ever hired him, but he would like to work with Ajith if the chance came up. On the other hand, Pawan and Vijay, the other big stars of this age, get along well. Let's hope someone comes up with a great story that will make Pawan and Ajith want to be in the movie.
Everyone was surprised when Trisha said she would like to work with Selvaraghavan on a possible remake. When the actress replied to a 2013 tweet from Selvaraghavan, fans were shocked.
Selvaraghavan said in a tweet that he had just seen AMAV (Aadavari Matalaku Arthale Verule), which was later remade in Tamil as Yaaradi Nee Mohini, for the first time in a long time and that he had a lot of fun working with Venkatesh and Trisha. He also said that a second part of the movie wouldn't bother him.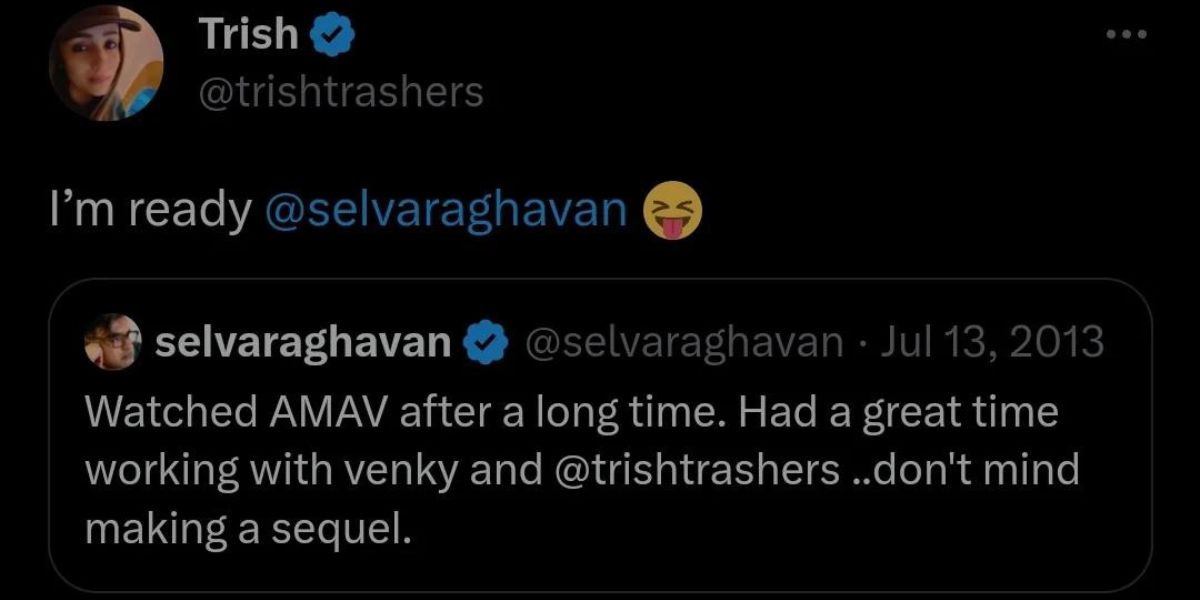 Trisha just saw the tweet, so she answered right away, "I'm ready, Selvaraghavan." After how well this unexpected chat was accepted, fans of the director and movie fans can't wait for a sequel."
AMAV was a big hit, and the two biggest stars were Venkatesh and Trisha. In the movie, a software engineer falls in love with a co-worker, but her family and his pride get in the way.
People liked the movie because it was funny, had good music, and was well done. In 2008, Yaaradi Nee Mohini, a Tamil movie, was made from it. The main parts were played by Dhanush and Nayanthara. Mithran Jawahar's first movie as a director was the Tamil version, which was also a big hit.
BigFlix provides you with the latest movie updates and news. So, don't forget to subscribe to our website.  You can also share it with your friends or groups. For any queries, you can comment in the comment box below.