Best Crime Thriller Web Series on Hotstar provides more and more options available to viewers as the world of streaming services expands. You're in luck if you enjoy crime thrillers because Hotstar has some excellent web series that are ideal for you.
Best Crime Thriller Web Series on Hotstar
We'll be examining 10 of the top crime thriller web shows available on Hotstar in 2023 in this article. Hotstar offers it all, from intense crime dramas to breathless thrillers. So let's get started without further ado!
November Story
One of the best crime thriller web series available on Hotstar is November Story. Follow the heartwarming tale of a renowned mystery writer who is discovered at a crime scene without recollection of what occurred and his daughter, who has to intervene to save him. This show is a must-watch since it has a good amount of heart and a little bit of mystery.
Criminal Justice (Season 1)
This 2019 crime drama-thriller, which is based on Peter Moffat's writing, follows Aditya, a good-hearted man who gets caught up in a murder investigation. The show follows his trial, his time in jail, and the dishonest attorney who defends him. Unquestionably, one of the most well-regarded crime thriller series on Hotstar is this one.
Criminal Justice (Season 2): Behind Closed Doors
Behind Closed Doors is a legal crime thriller series that will keep you on the edge of your seat. The only eyewitness to Anuradha Chandra's murder of her lawyer husband is her daughter. The assigned attorney is committed to learning the truth but with a twist. Watch this incredible crime thriller series on Hotstar in one sitting to learn the twist.
Aarya
Following the popularity of the first two seasons, Hotstar will release the third season of Aarya. Aarya Sareen, who inherited her husband's criminal enterprise after his death, is the main subject of the television series. As she navigates the murky world of crime with foes closing in on her family and kids, it depicts her journey. This television show honors powerful women who dominate the globe and dispel gender stereotypes.
Special Ops
Himmat Singh, a researcher, and his specialized task force are key to the Special Ops television series. In the show, Hafiz Ali intends to detonate a bomb. The explosion caused a number of deaths. In order to apprehend Hafiz Ali, Himmat Singh then assembles a team of five decorated officers. This massive thriller series is only available on Hotstar for binge-watching.
Special Ops 1.5: The Himmat Story
The suspenseful thriller Special Ops 1.5 will have your attention from start to finish. The protagonist of the narrative is RAW agent Himmat Singh. We watch him develop as an espionage agent throughout the series, and there are lots of surprises along the way to keep you interested. Only on Hotstar can you binge-watch the action-packed journey of RAW agent Himmat Singh.
City of Dreams (Season 1)
Two siblings compete to lead their father's political party in the critically acclaimed political crime drama series City of Dreams, with catastrophic results. Who will win out in the end? Watch this essential series streaming on Hotstar to find out.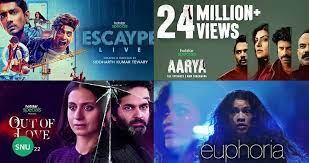 Hostages
The Israeli television program of the same name, Hostages, was remade. Hotstar already offers two seasons of this web series for streaming. You'll be on the edge of your seat while watching the gripping Hostages series. The protagonist of the story is Prithvi, whose wife has cancer. Her condition is getting worse. If CM Handa is not abducted and killed in four hours by Prithvi, the cancer doctor will not perform surgery. Will Prithvi consent to this on behalf of his wife? Or will he misplace her? Watch this top crime thriller series on Hotstar in one sitting.
City of Dreams (Season 2)
After an attempted assassination, political unrest is rampant in Mumbai, and the Gaikwad family finds itself caught in the crossfire. This compelling series tackles the complicated connections between family, politics, and morality with further turns and turns. Watch The City of Dreams Season 2 on Hotstar, one of the greatest crime thriller web series available right now, and find out what happens.
Learn more:
Grahan
Grahan, one of the most underappreciated crime thriller web series available on Hotstar, is a true gem. The narrative centers on Amrita Singh, an IPS officer who leaves her position after coming under political pressure at work. She then makes the decision to wed her longtime love in Canada. She later changed her mind after discovering that Gursevak Singh, her Sikh father, was a main suspect in the 1984 anti-Sikh riots in Bokaro, Jharkhand.
What are you still holding out for? With the 10 Best Crime Thriller Web Series on Hotstar, be ready for an incredible experience!