Best Hindi web shows on Disney+ All of the Star TV stations that you typically watch through cable TV are available on Hotstar. However, Hotstar Specials are some of the best Hindi TV programs available on the service. All but a few of these TV series are top-notch. You can enjoy watching the top 10 Hindi Hotstar shows featured in this article.
Best Hindi web shows on Hotstar:
The Night Manager
The Night Manager, a Hindi version of the British television series of the same name, stars Anil Kapoor and Aditya Roy Kapur in the key roles. The narrative centers on a night manager (Kapur) who, while attempting to assist a hotel client who is a minor being used by a mobster, finds himself in the company of some really dangerous individuals. The manager decides to wreak revenge on the girl even if she doesn't live. By breaking into the criminal gang he's aiming to take down and develop a strong relationship with the top boss—Anil Kapoor—he has the ideal chance to advance.
Criminal Justice
The ensemble cast of the Hindi TV show Criminal Justice on Hotstar includes well-known actors from the Bollywood industry, including Jackie Shroff, Pankaj Tripathi, and Vikrant Massey. The plot of the thriller TV show is remarkably similar to that of The Night Of on HBO. Its plot is also shared by the first season of the 2008 BBC television program Criminal Justice. Thus, this may be considered a Hindi adaptation of both of those programs. Aditya (Vikrant Massey), a taxi driver, has a one-night stand with Sanaya (Madhurima Roy), a passenger, in the Hotstar adaptation of the TV show. 
Special Ops
In this Hindi espionage thriller on Hotstar, Kay Kay Menon plays a RAW agent who thinks that a single terrorist is responsible for a string of terrorist strikes. He is, nevertheless, the subject of a formal investigation into his excessive use of public funds. As the series progresses, Menon explains how he hand-picked and trained a group of special agents to bring down the anarchists responsible for some of the most significant terrorist incidents in India and around the world. 
Out Of Love
Based on Doctor Foster from BBC One, the two-season series Out of Love is available on Hotstar. The major characters of Meera and Akarsh, a husband and wife team, are played by Purab Kohli and Rasika Dugal. Up until Meera discovers a woman's hair on Akarsh's scarf, the two are a happy married couple. She begins investigating to determine whether Akarsh is having an affair. She goes through a period of chaos after learning that he is truly having an affair with another woman and makes several poor choices, only to reach a crossroads where she must choose between forgiving, forgetting, or battling with her better half. 
Hostages
A crime thriller, A doctor's family is held captive by four masked men in a Hindi TV series on Hotstar the night before she is set to operate on a highly effective and influential politician. She has the option of saving either her patient or her family, but she chooses to confront and confront her tormentors. Some relatively well-known TV personalities may be seen in Hostages, including Tisca Chopra, Ronit Roy, Parvin Dabas, Aashim Gulati, and Mohan Kapoor.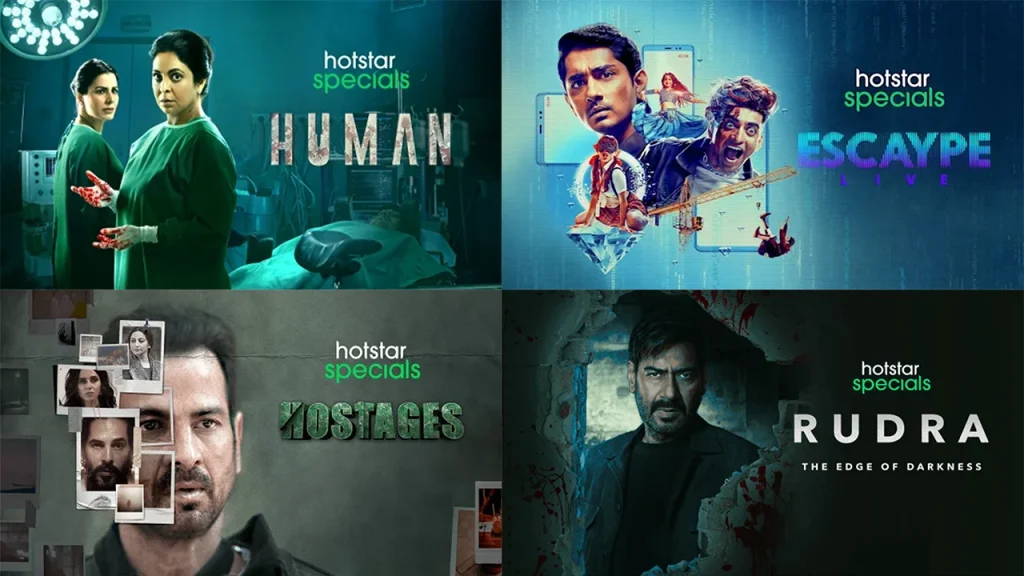 City of Dreams
One of the top series on this list is this Nagesh Kukunoor-produced Hindi political drama on Hotstar. The TV show's story revolves around a fictitious political dynasty in Mumbai. The patriarch, one of the family's most powerful figures, is the target of an assassination attempt. As a result, his daughter and son engage in a power struggle that blurs the boundary between right and wrong. Priya Bapat and Siddharth Chandekar, two lesser-known actors, give some outstanding performances throughout the program. It also includes prominent roles for well-known TV actors like Atul Kulkarni, Sachin Pilgaonkar, and Eijaz Khan. 
Aarya
This is the tale of a prosperous, contented family from Rajasthan. The unexpected death of the family patriarch (Chandrachur Singh) shocks them. The matriarch (Sushmita Sen) must now act independently to make sure her family survives the drug war into which it has been dragged. Nobody, not even her closest pals, can she trust. Will she and her children survive? One of the best original productions on Hotstar is the nine-part thriller series.
PariWar
Want to make things more fun? Then you ought to unquestionably look into PariWar on Disney Plus Hotstar. In the comedy series, a tiff-prone family gathers in their hometown in the hopes of inheriting a valuable plot of land. They are unaware that the inheritance is only a deception the family patriarch has devised to bring the members back together and settle their minor disputes.
Grahan
This relatively new Hindi program on Disney Plus Hotstar moves back and forth between two eras. One takes place in 1984 and depicts an illicit romance in the middle of the historic anti-Sikh riots. The other is set in 2016, when Amrita Singh, an IPS officer, is tasked with looking into the tragedy. Along the process, she learns that the case has a significant connection to her background and that cracking it would entail locking up her father.
Learn more:
The Great Indian Murder
The Great Indian Murder on Hotstar may be enjoyable if you want to kill some time while seeing reputable actors in action. The murder of a well-known industrialist and the son of a prominent politician is the central theme of the nine-part series. He is shot dead at his party, and the police have several suspects to look into to identify the culprit. The plot is not quite as simple as that, though. The backstories of each of the main characters keep you guessing about their intentions right up to the very end.