Best Tamil Movies On Hotstar that are worth your time, ranging from Madras (2014) to Vikram Vedha (2017).
The popularity of Tamil and Malayalam films has skyrocketed during the past twenty years. The 21st-century Tamil film has dealt with a variety of sociopolitical topics, from Virumandi (2003), Veyil (2006), Subramaniapuram (2008) through Sarpatta Parambarai (2021) and Tanakkaran (2022). The fact that such works have been well received by casual moviegoers and have achieved enormous commercial success is essential. There have also been outstanding genre movies without a lot of pointless melodrama and annoying music, such as Vikram Vedha (2017) and Kaithi (2019).
Best Tamil Movies on Hotstar
Madras (2014)
Attakathi, Pa. Ranjith's first film, is a possible absurdist love story. But it was that movie that set him on his mission to restore Dalit representation both in and outside of the film industry. In Madras, his second film as a filmmaker, Ranjith aims for a more complex political undertone. The plot of the movie takes place in a North Chennai housing complex where people of underprivileged communities are drawn into the conflict between two regional parties over political power. 
Rajathandhiram (2015)
Rajathandhiram by Amid is a heist thriller that was expertly adapted to the Tamil film industry. Three young, unemployed con men who conduct small-time crimes and take advantage of trusting individuals are the center of the story. The three become involved in a larger theft scheme involving the robbery of a jewellery store. Rajathandhiram may appear to be a simple genre movie, but it has a lot of intriguing turns that keep us on our toes. 
Jigarthanda (2014)
The second film directed by Tamil new-age filmmaker Karthik Subbaraj was the much praised Jigarthanda. To create a true gangster movie, the young aspiring filmmaker in the story is determined to follow and study a violent mobster. The criminal asks the filmmaker to accomplish the impossible after the scheme disastrously fails. As the purely malevolent 'Assault' Sethu, Bobby Simha was outstanding. Karthik Subbaraj achieves a near-perfect mix of tension thriller and black humour in his direction. 
Onaayum Aattukuttiyum (2014)
One of the few incredibly talented Tamil filmmakers whose work is readily recognizable thanks to his distinctive vision is Mysskin. Mysskin established himself as an independent filmmaker whose works frequently fall into the crime and thriller subgenres with his second feature, Anjathe (2008). In the novel Onaayum Aattukuttiyum, also known as Wolf and a Lamb, an innocent medical student meets a cunning and dying fugitive. The majority of the story takes place on a single night. It masterfully contrasts thrilling action sequences with exquisitely realized emotional scenes.
Kaithi (2019)
Assault on Precinct 13 (1976) and Con Air (1997) by Simon West and John Carpenter served as the primary inspirations for Lokesh Kanagaraj's action thriller Kaithi. The biggest drug raid in Tamil Nadu is shown in the movie's opening. In addition to putting a bounty on the task force officers involved in the bust, the gang that lost its property is eager to get it back. Dilli, an ex-convict who has been waiting a long time to see his daughter, is caught up in this conflict between the police and the drug lords. Kaithi is a ruthless action thriller with fantastic stunt sequences and excellent photography. 
Kanchivaram (2008)
Kanchivaram, a masterful social play by Priyadarshan, centres on an exploited silk weaver. The story is tied together by accurate observations, enormous ironies, and a potent political commentary. However, the mature direction of Priyadarshan prevents the story from being slowed down by symbolism or commentary. As the lead character Vengadam, a silk weaver trapped between his political and personal convictions, Prakash Raj gives a restrained performance.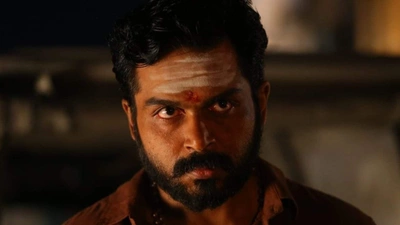 Aaranya Kaandam (2010)
With its chosen swear words and graphic violence, Thyagarajan Kumararaj's debut film is a Tarantino-like story of gang warfare. It takes place in the concrete jungles of North Chennai, which are ruled by a weak don (Jackie Shroff).
A variety of rivalries ripped through the gang's complacent existence. The plot isn't original. However, Kumararaja's clever language, oddball characters, and unwavering direction create an amazing experience. 
Kaaka Muttai (2015)
The directing debut of Manikandan is a lesson in how powerful social issue movies may be created without shouting, obnoxious statements. Two rambunctious little siblings are the center of the movie. They reside in the slums of Chennai with their devoted grandmother and their hardworking mother. The youngsters who earn Rs 20 per day become fixated on the Rs 300 pizza when a pizza company replaces their preferred hangout. 
Vada Chennai (North Chennai) (2018)
The expansive gangster thriller directed by Vetri Maran expertly lays out the director's favourite themes: greed, betrayal, and the oppression of the underclass. In Vada Chennai, the fate of protagonist Anbu (Dhanush) is determined by gang and political confrontations that have lasted for almost two decades. The non-linear plot carefully follows Anbu's development from a carom player with reckless abandon to a man fighting for a cause.
Know more:
Ratsasan (Demon) (2018)
Ram Kumar's gritty thriller was well received by critics and audiences since it tackled a fresh topic for Tamil film: serial killers. The story centres on Arun Kumar (Vishnu Vishal), an ambitious director who has written a script for a movie about serial killers. Arun decides to shift careers and work as a police inspector after being frustrated by his failures. By happenstance, he discovers a schoolgirl's abduction and terrible murder, which he believes to be the work of a serial murderer. As Arun pursues the criminal's trial, the brutal killings keep happening.