It keeps proudly displaying the story's reckless character, bragging about something that has become very hard to find these days – innocent and enjoyable fun.
Review of the movie Fukrey 3: 3/5
Here is the list of Main Cast:
Varun Sharma
Pankaj Tripathi
Pulkit Samrat
Manjot Singh
Richa Chadha
Manu Rishi Chadha
Film Title: Fukrey 3
Film Director: Mrighdeep Singh Lamba
What's Good About Fukrey 3: Pankaj Tripathi's presence in the film adds a lot of humor. It's like magic – just having him on the movie set makes everything funnier. It's hard to explain, but trust me, it works!
What's Not So Good About Fukrey 3: The second half of the movie becomes a bit too serious. It tries to convey a social message, but it feels a bit forced, like an important cameo appearance that doesn't quite fit in.
When to Take a Bathroom Break: You'll find plenty of opportunities to take a bathroom break during the second half of the film. However, be sure not to miss out on the fun moments.
Should You Watch Fukrey 3? Yes, you should watch Fukrey 3! However, if you haven't seen the first two movies in the series, it's a good idea to watch them first to fully enjoy the experience.
Where to Watch Fukrey 3: You can catch Fukrey 3 in theaters.
Film Duration: Fukrey 3 has a runtime of 2 hours and 25 minutes.
Review of the Movie "Fukrey 3": Examining the Story and Writing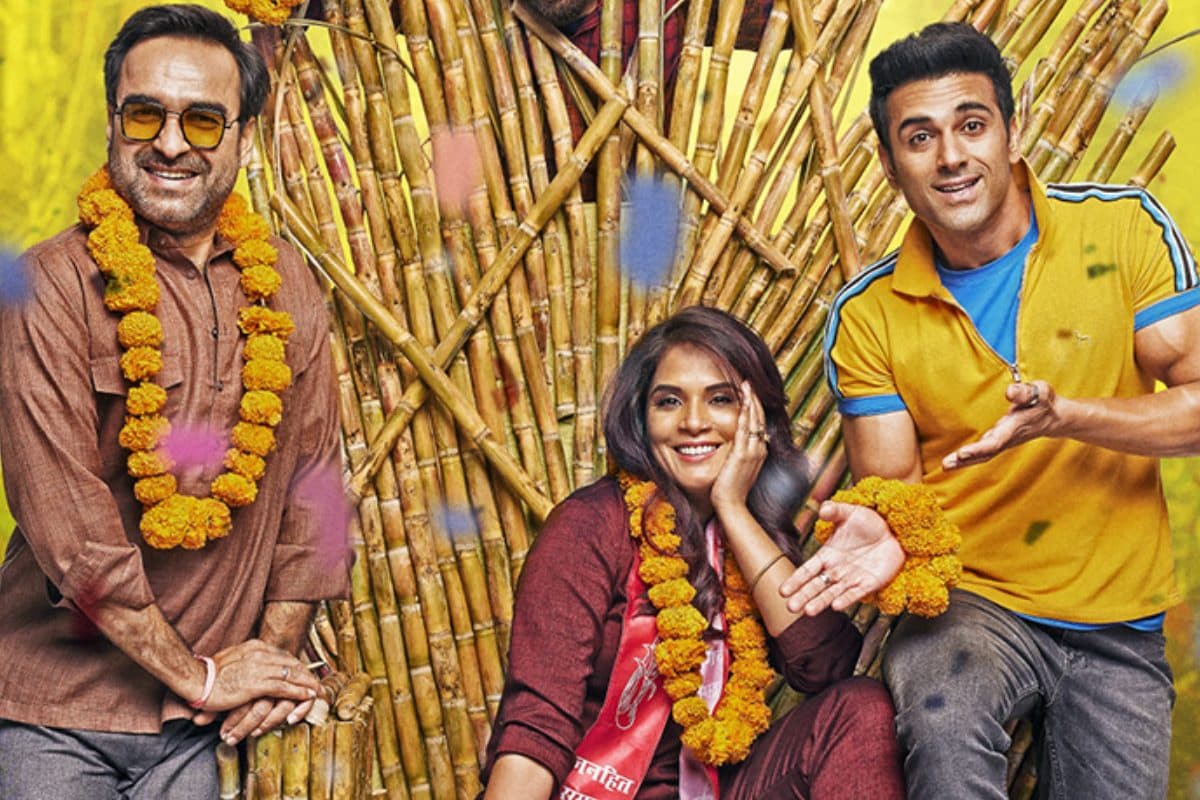 Vipul Vig's story in 'Fukrey' stands out and has a unique charm that sets it apart from other franchises. Just like how we associate bikes with the Dhoom series and perhaps cringe a little when we hear about 'MSG – Messenger Of God,' Fukrey has created its own distinctive identity. It's all about goofy friendships and even goofier superpowers.
However, the third installment of Fukrey takes a slightly different turn compared to the first two. In the latter part of the film, it starts to lose some of its initial charm. It seems like the creators had a bunch of good jokes, and they used most of them in the first half. Nevertheless, the performances of the actors keep you engaged, and you'll stay seated.
Vipul Vig's dialogues (with additional contributions from Mrighdeep Singh Lamba) maintain the same zany flavor throughout the movie. What's particularly clever is how each character has dialogue tailored to their personality. Pankaj Tripathi's character, Pandit, delivers lines that heavily depend on his acting prowess. On the other hand, Varun Sharma's Choocha's dialogues are uniquely suited to a character like his.
For instance, lines like "Vasco Da Gama once said: You can forget pooping and peeing abroad, but never forget your passport," delivered by Pankaj Tripathi, emphasize how challenging it is to create simple yet effective comedy. This is where Fukrey consistently succeeds.
Fukrey 3 Movie Review: Spotlight on Actors' Performances
In the third installment of the Fukrey series, the creators decided to keep Varun Sharma's character, Choocha, as the main focus, just like in the previous films. Choocha has always been a beloved character among fans. Some decisions in the movie work well, while others may seem a bit excessive, but Varun's natural and effortless acting skills save the day.
Pankaj Tripathi shines brightly in Fukrey 4 and truly deserves all the attention. I had secretly hoped that this time, the makers would give him more prominence, but the film primarily revolves around Choocha. With each new installment, Tripathi's character, Pandit, has become more involved, and this is partly because of how Tripathi has improved as an actor over the last decade.
However, the downside of Choocha and Pandit taking center stage is that Pulkit Samrat's Hunny and Manjot Singh's Lali get overshadowed. The problem isn't just about the amount of screen time they have but rather the distribution and quality of the jokes. Even Richa Chadha, who plays Bholi, seems to lose her signature charm as the story introduces a new villain, Amit Dhawan's Dhingra, who doesn't add much to the plot. Unfortunately, Manu Rishi Chadha, another talented actor, also seems underutilized in the film, much like Richa.
Parineeti Chopra Records a Song 'O Piya' as a Special Gift for Husband Raghav Chadha on Their Wedding Day – A Heartwarming Gesture!
Fukrey 3 Movie Review: How Well the Movie Was Directed and the Music It Featured
Mrighdeep Singh Lamba, the director, continues to follow the successful formula that makes Fukrey movies so enjoyable. This formula combines silly, physical comedy with clever, witty dialogue. This is what gives Fukrey its unique flavor. However, in this latest installment, he may have gone a bit too far in making the main characters seem overly talented, and this doesn't quite surpass the charm of the previous movie.
Abhishek Nailwal's background music adds to the fun of the film. It's used cleverly to enhance the humor in many scenes. However, the new songs in the movie aren't particularly great and probably won't find a place on your favorite playlist. Instead, the filmmakers rely on their tried-and-true tracks like "Ambarsariya" to keep the melodious rhythm going.
Fukrey 3 Movie Review: Our Final Thoughts
After considering everything, the title of the movie "Fukrey 3" actually contains a hidden message about the movie's quality if you pay close attention! This title proudly reflects the movie's adventurous and carefree nature, emphasizing something that is not easy to come by these days – innocent and enjoyable entertainment.
Mission Raniganj Trailer Box Office Day1 Performance: Can Akshay Kumar Recreate Another Surprise Opening Day Success After OMG 2's Strong Start?
Trailer of Fukrey 3