Selling Sunset returned for season 7 in November 2023, and it might be the Netflix reality show's most dramatic season yet. Enormous fans of the popular show sent Selling Sunset season 6 to the top of the charts, which only heightened their anticipation for season 8. 
With the tension amongst the cast members spilling over into tabloid territory, the reality series, which debuted on Netflix in March 2019, has grown to become one of the most talked-about Netflix original shows.
After all these seasons, it still has all the makings of fantastic television. After binge-watching all of season 7's twists and turns, can fans anticipate Selling Sunset season 8? Here is everything we currently know about the upcoming season.
Selling Sunset Season 8 Release Date

Selling Sunset Season 8 currently has no release date as Season 7 of the show began streaming on November 3, 2023. Netflix presently offers the first seven seasons of Selling Sunset for streaming. The reality show has eight episodes per season for the first three seasons, ten episodes for the fourth season, and eleven episodes for the fifth and sixth seasons.
As a result, you can currently binge-watch all episodes of Selling Sunset on Netflix. Seasons 6 and 7 of Selling Sunset, Netflix's flagship real estate reality series, were ordered for simultaneous renewal in June 2022. The popular show's renewal occurred before the spinoff Selling the OC's August 2022 launch; the spinoff was likewise renewed for two more seasons in January 2023.
Selling Sunset Season 8 Cast
Many of the familiar faces from Selling Sunset season 7 were there, and most are anticipated to return for season 8. But there was a conspicuous absence in season 6. Christine Quinn departed the show before the sixth season was in production, and she didn't return for seasons six and seven. Quinn's departure didn't stop the drama involving these cast members, who will all likely return in Selling Sunset season 8:
• Brett Oppenheim
• Heather El Moussa
• Mary Fitzgerald
• Chrishell Stause
• Amanza Smith
• Emma Hernan
• Chelsea Lazkani
• Bre Tiesi
• Nicole Young
Selling Sunset Review
With the introduction of new agents in Selling Sunset Season 7, there will undoubtedly be more drama involving personality clashes, pregnancy, and lots of expensive real estate to compete for in order to satisfy The Oppenheim leaders. You have to admit that you are drawn into this world of shady business when you have these real estate brokers competing over some valuable homes in order to collect checks.
This time around, one of the things that wowed the audience was how much these women appeared to be drifting apart. Impressing the employers is the only objective, and in the process, they cooperate rather than always work against one another.
Could we discuss these dinners? At these dinners, the real estate professionals just go all in on each other. I find it absurd that these shows haven't shown full-fledged brawls because if some of these people had said these things to me, I would need to deal with them more than just verbally especially since they were stealing money from me.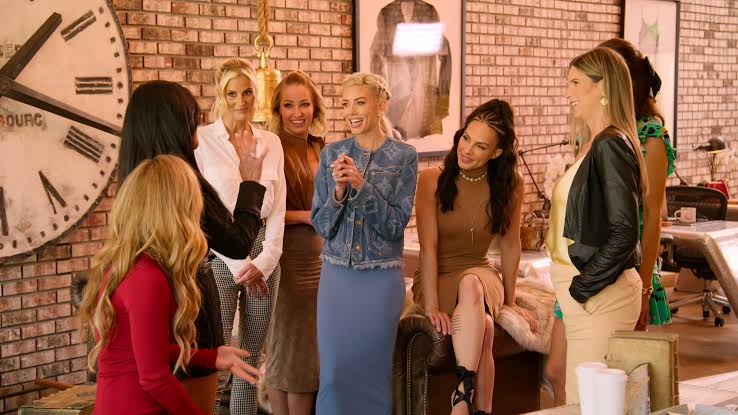 The huge stakes that Selling Sunset offers is something special that other reality shows don't have. While it's true that love-based television can have huge stakes and that relationships might end, selling real estate often involves individuals battling for their livelihood. That raises the stakes in keeping the program grounded despite the turmoil.
Also Read: The Morning Show Season 4 Release Date: Wake Up to Excitement
What To Expect From Selling Sunset Season 8?
When the show returns, fans can anticipate many jaw-dropping moments, according to Entertainment Weekly. In addition, a group trip will be organized to see the newest office of the Oppenheim Group. Even though Chrishell Stause is stepping back from Oppenheim, there will still be a lot of drama centered on him.
Where To Watch Selling Sunset?

Selling Sunset is a Netflix series, so when the much-awaited reality show debuts, it can only be watched on the service. As per the corporate profile, Netflix can be accessed in more than 190 nations.
Also Read: Will There Be A Season 4 Of The Morning Show? Get Ready For More Morning Drama!
Selling Sunset Season 8 Trailer
There is currently no official trailer for Selling Sunset season 8 at the moment. However here is the official trailer for season 7 which premiered on November 3, 2023
Conclusion
"Selling Sunset" Season 8's release date remains unannounced, as Season 7 premiered in November 2023. The show's cast, which is anticipated to include returning members, has garnered considerable attention for its dramatic real estate dealings and interpersonal dynamics. With Netflix providing the platform for viewing, the series offers high-stakes real estate competition with its unique blend of glamour and drama.